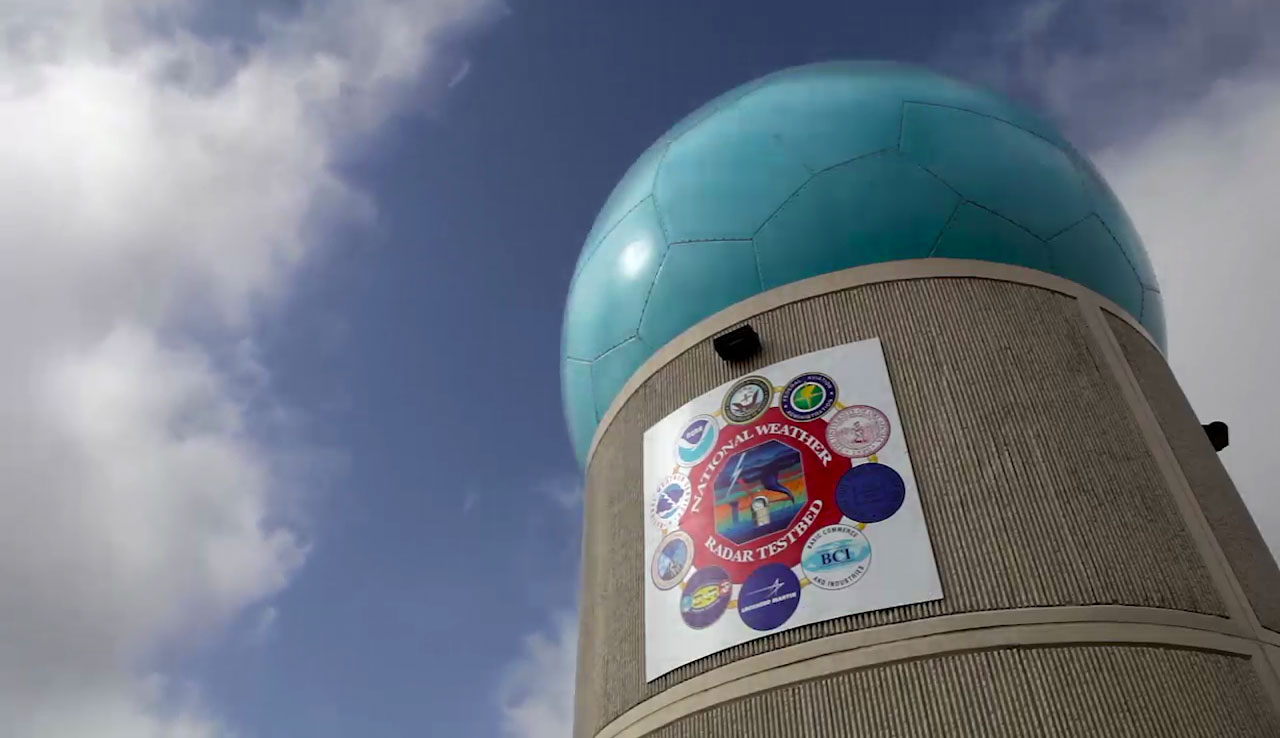 NWRT: End of an Era
NOAA's National Weather Radar Testbed phased array radar, decommissioned on May 31, 2016 to make way for newer technology, was a tool aimed at developing faster and more accurate warning, analysis, and forecast techniques for severe and hazardous weather.
NWRT: End of an Era
NOAA's National Weather Radar Testbed phased array radar, decommissioned on May 31, 2016 to make way for newer technology, was a tool aimed at developing faster and more accurate warning, analysis, and forecast techniques for severe and hazardous weather.
Loading the player

An important research program at the NOAA National Severe Storms Laboratory came to a close when NOAA's National Weather Radar Testbed was decommissioned on May 31, 2016, to make way for newer technology. The SPY-1A phased array radar was a joint initiative between NOAA and several partners to use rapid-scanning radar technology to provide faster and more accurate warnings for severe and hazardous weather.
Since its dedication on April 25, 2003, the radar has been a valuable tool for NSSL researchers. "During its years of service, the PAR has proven a promise that radar enhancements could produce faster warning times," said NSSL Director Steven Koch. "Phased array radar has demonstrated that rapidly-updating information can extend warning lead times well beyond what was possible before."

For more than 13 years, the NWRT has collected weather and aircraft data to test the effectiveness of using a multi-function radar to meet both the weather and aircraft surveillance missions of NOAA and the Federal Aviation Administration, along with possible missions for the Department of Homeland Security and Department of Defense. The PAR has provided invaluable data in scientific case studies of hail, wind, microburst, and tornado events, and its applications have been explored in the Phased-Array Radar Innovative Sensing Experiment (PARISE).
When Minutes Count

The antenna of a phased array radar is a stationary panel, unlike the rotating antenna dish on current weather radars. These dishes require four to five minutes to mechanically rotate and tilt upwards as they sample the full atmosphere around the radar. In contrast, the phased array radar has no moving parts so it can scan the entire sky in less than a minute. Operators can also steer its beams electronically to concentrate on areas of interest, resulting in more information over areas of severe weather.
Loading the player

"The most significant thing we have learned using PAR is that one-minute updates of the entire storm volume are beneficial to improving forecasters' ability to extend severe and tornado warning lead times," said Pamela Heinselman, senior research meteorologist with NSSL. "This provides the public with more time to take shelter prior to rapidly-developing and evolving high-impact weather events."
The NWRT has also played a role in developing Warn-on-Forecast, a research program at NSSL aimed at combining high-resolution surface, satellite, and radar data to better predict specific weather hazards. Researchers are examining whether faster volume updates from PAR, as compared to those from Doppler weather radar currently in use (WSR-88D), can produce improvements in storm-scale analyses and forecasts. For the current class of models used in WoF research and tests, the value of rapid scan data is diminished because the errors in the models are large and overwhelm the benefits. During the next decade, as models improve, the NWRT will have clear benefits for prediction.
Significant research findings using PAR include...
One-minute volume scans capture key processes in storms that could be missed between WSR-88D scans.
Allows for detection of severe weather trends indicative of hazards.
Captures rapid transitions in storm type and threats.
Clarifies complex storm interactions related to tornadogenesis.
One-minute radar updates improve the timeliness, accuracy, and quality of warnings and information that the NWS can provide in real-time, satisfying the information needs of an information-savvy society.
Earlier severe and tornado warnings, especially during rapidly evolving events, allow more time to protect people and property—for hospitals to move patients away from windows, or for general aviation airports to get planes in a hangar.
Fewer unverified tornado warnings result in less time, energy, and money spent responding to false alarms.
More timely information on location and path of hazards catches changes in storm paths, such as for a tornado, and informs the actions of first responders as they make safety decisions.
Gold MEDAL
In 2011, NSSL's Radar Research and Development Division was awarded the Department of Commerce's Gold Medal for "scientific and engineering excellence in adapting military phased array radar technology to improve U.S. weather radar capabilities." This highest honor granted by the Secretary of Commerce identifies extraordinary contributions impacting the mission of the Department.
Multi-Function, Multi-Savings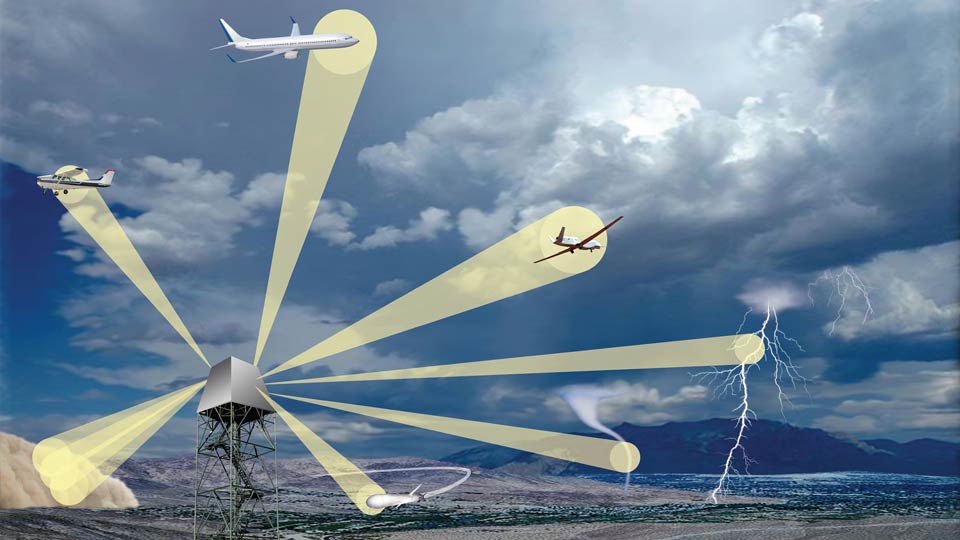 The benefit of MPAR is its ability to do multiple things at once.
The Multi-Function Phased Array Radar program was born in an effort to demonstrate the potential to simultaneously perform aircraft tracking, wind profiling, and weather surveillance with a single phased array weather radar. Various federal agencies operate radar networks, including ~350 aircraft tracking radars and ~200 weather radars that will eventually need to be replaced. These ~550 single-function radars could be replaced with approximately 365 multi-function radars.
An MPAR network using affordable phased array technology will provide unprecedented weather observing and forecasting, perform critical surveillance support for homeland defense, save lives and protect property, and provide economic benefit to the nation. An independent study estimates implementation of a combined MPAR network of radars satisfying both Federal Aviation Administration and National Weather Service missions will save the taxpayer $4.8 billion over the life cycle of the radar.
How Phased Array Radar Came to Norman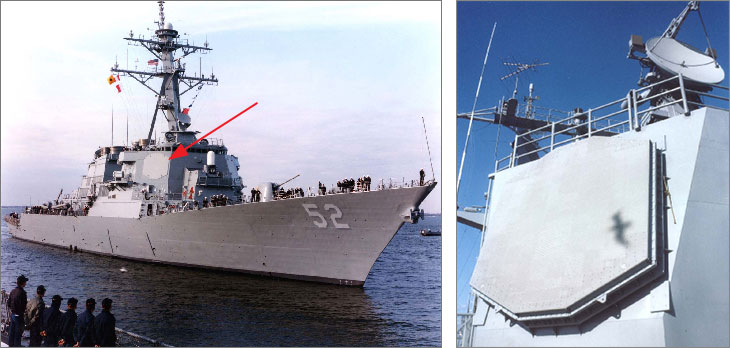 SPY-1A radar on Naval warship
The use of military phased array radar technology for weather applications was envisioned by NSSL's Dusan Zrnic, a NOAA senior scientist and weather radar pioneer. In the 1990s, Zrnic recognized that phased array radar technology used on Navy ships was the next frontier, but researchers knew getting a PAR to NSSL would be a costly endeavor. Fortuitously, Lockheed Martin's John Heimmer had visited the Lab several years prior to discuss his company's phased array radar work with then-Acting Lab Director Douglas Forsyth. Recalling this meeting, Heimmer returned in 1998 to work with NSSL Director Jeff Kimpel, Director of NOAA's Office of Oceanic and Atmospheric Research Joe Friday, and Scott Sangathe at the Office of Naval Research. Together, they devised a plan to bring a battle spare SPY-1A antenna from the Department of the Navy to NSSL as a research radar.
Building of the system began in 2001 and the NWRT was completed and dedicated in 2003. It was not until May 29, 2004, however, that the system was able to capture its first tornado. The NWRT's signal processing hardware and computer code were upgraded annually, giving the system more capabilities each year that it was operational.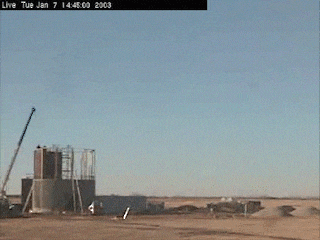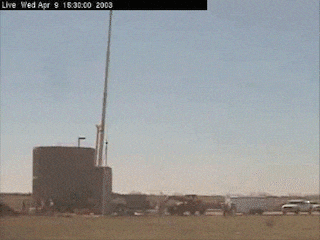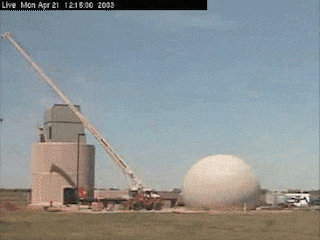 Built with Partner Support
The $24 million PAR was built with the help of many partners. Major contributions came from the Office of Naval Research, the Federal Aviation Administration, and NOAA. The University of Oklahoma and Oklahoma State Board of Regents for Higher Education agreed to provide matching funding, and an in-kind donation was provided by Lockheed Martin and Basic Commerce and Industries.

Upgraded Radar To Continue Phased Array Research
The Advanced Technology Demonstrator will replace the aging and obsolete SPY-1A phased array antenna at the NWRT with a modern, dual polarization, active phased array radar. The objective of the ATD will be to demonstrate multi-function operation (simultaneous weather surveillance and aircraft tracking) scan strategies; quantify the performance of dual polarization; and demonstrate calibration processes for large, integrated arrays. The ATD is arguably the largest single investment of MPAR research funds directed at demonstrating the MPAR concept prior to an acquisition program. The ATD will then continue to serve as a research radar at NSSL and will be available for meteorological research and MPAR path-finding studies in support of the MPAR program.

"The phased array radar we've been using is 1970s technology with rather limited capability compared to modern phased array radars," said Kurt Hondl, NSSL's MPAR program manager. "The SPY-1A based PAR has been a great asset to NSSL's research and the MPAR research and development mission. But it's time to move on to bigger and better things."
The ATD's design is based on Massachusetts Institute of Technology/Lincoln Laboratory dual pol panels and sophisticated radar control software jointly developed by NSSL/CIMMS and General Dynamics. This new technology will allow researchers to do rapid scan sampling of dual polarization data and test more elaborate scanning strategies and adaptive beamforming necessary to meet MPAR's concept of operations.
Engineers will dismantle the PAR in mid-2016, and will begin making modifications necessary to prepare for the ATD. Installation of the ATD is planned for mid-2017, with hopes to have the system operational by early-to-mid 2018.
Posted: August 12, 2016
Story: Tanya Schoor and Keli Pirtle
Video and animations: James Murnan
Concept and web design: Vicki Farmer
Learn More
Published Research:
NSSL Fact Sheets (pdf) :
NSSL Video:
Looking Back: A History of Radar Research at NSSL