The Anadarko - Mulhall Cyclic, Tornadic Supercell,
followed by the El Reno - Mulhall Tornadic Supercell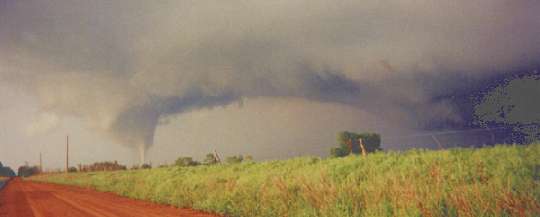 INTRODUCTION
Storm B would become a prolific tornado producing supercell. Twenty-one distinct tornadoes were identified thanks to a wealth of video documentation by storm chasers, and extensive damage survey efforts. The NSSL VORTEX crew was among the many storm chasers operating on this storm during the evening hours. Several tornadoes were successfully intercepted by the crew for data collection purposes.
The storm, unfortunately, will be remembered most for its nineteen mile, F4 tornado that destroyed much of the town of Mulhall. However, as a credit to the excellent public tornado warnings on May 3rd, only one death was recorded with this storm. There is no doubt that the WSR-88D data played an increased role in locating tornadic mesocyclones after dark.

1. THE EARLY EVENING TORNADOES: (Roosevelt/Boone/Anadarko)
Description: Storm B produced its first tornado, a brief F0, around (22:35). Thus, the lifetime of this storm coincided with that of Storm A for quite some time. Storm B had a distinct, low precipitation (LP) character through its early lifetime. WSR-88D images from (22:29) indicated a mesocyclone that is strengthening just prior to the first tornado, south of Roosevelt.
A precursor to the second tornado came at (22:45) when the storm first developed a bounded weak echo region (BWER). Data problems affected subsequent volume scans, but there was no doubt as to the storm's severity. When data came back to full quality at (23:16), four minutes prior to the Boone tornado (pictured above), all three NSSL algorithms pegged Storm B as tornadic. However, the MDA was challenged at times during the LP, early lifetime of hte storm. At (23:41) the location of the detected mesocyclone was somewhat misplaced for reasons explained here. On the other hand, (23:46) is one example of an excellent detection. A second example came at (23:51) when the MDA succeeded in identifying two different mesocyclones.
Algorithm performance varies greatly with the character of the storm, and hence, the nature of the WSR-88D velocity data. Storm B took on a very unusual character toward late evening.

2. THE LATE EVENING TORNADOES: (Lake Chickasha/Minco/Union City/Banner/Piedmont)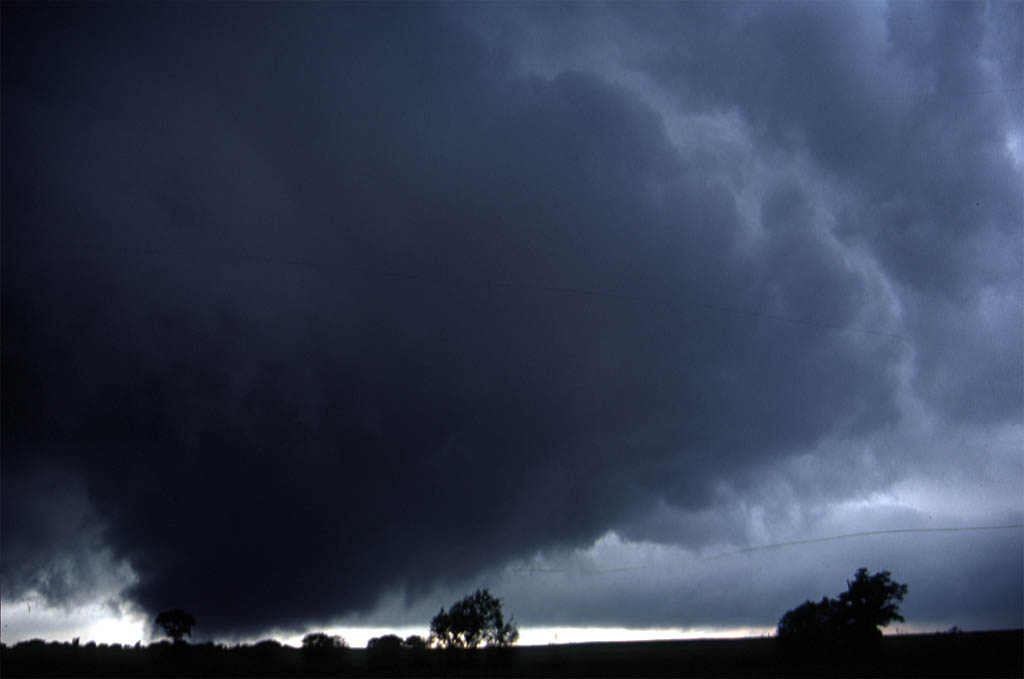 Description: By (00:02) the storm took on a different character. Storm chasers observed numerous mesocyclones, many existing simultaneously, during this stage of the storm's life. Very rapid tornadogenesis and then dissipation was observed at times. The MDA and TDA preformed quite well, considering the short time scales of many of these vortices.
One of the more significant tornadoes during this period developed south of Cogar at (00:37). The NSSL VORTEX crew successfully surrounded this tornado.

3. THE NIGHTTIME TORNADOES: (Cashion/Mulhall/Perry)
Description: Once north of Interstate 40, Storm B regained a more classic structure. The storm began to produce stronger tornadoes with longer tracks. The F4 tornado which destroyed Mulhall was spawned from an incredible mesocyclone. At times, this mesocyclone ranked higher in strength measures than any in the MDA database which dates back to 1994.
4. STORM G: (El Reno/Mulhall)

Description: Storm G followed a track that was amazingly similar to Storm B, and followed Storm B by about one hour and a half at a given location. The MDA tracked a steady mesocyclone with Storm G starting at (02:01), and it was seen to strengthen rapidly at (02:56) when the storm became tornadic. The data at (03:25) depicts a tornado cycle near Piedmont that is, again, amazingly similar to a cycle which occurred with Storm B at nearly the same location. Storm G proceeded to produce a 15 mile long F3 track which was parallel to, and only a few miles removed from the path of the Mulhall F4 tornado.