The Pink/Shawnee/Stroud Supercell

INTRODUCTION
Storm D began to form in the late evening, roughly 30 miles south of those areas that had just been hit by the Oklahoma City Supercell. Storm D went on to produce four tornadoes of its own, each with fairly lengthy tracks. The fourth of these directly struck the shopping mall located along I-44 inbetween Oklahama City and Tulsa. F3 damage occurred.
Warnings were issued well in advance, but the severe weather situation certainly was challenging. By (03:05) there were five dangerous storms in Central Oklahoma. At this time, WDSS played a somewhat increased role in the warning process through its ability to summarize the intensity of many storms.
1. THE TORNADO NEAR PINK: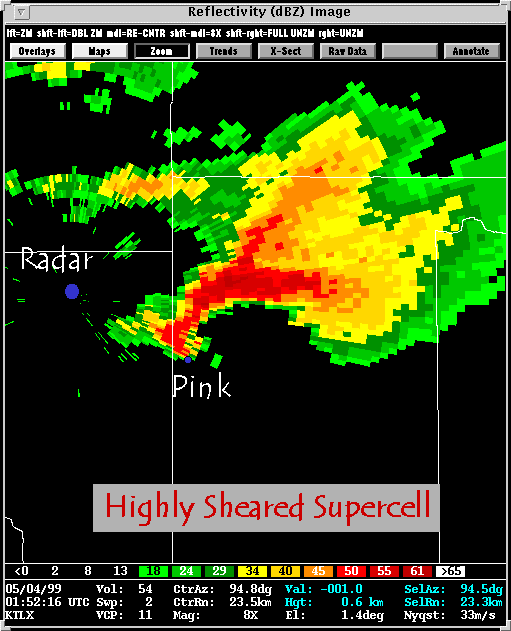 Description: The storm was loosely organized initially. Two centers of circulation can be found in the data at (00:47), but the southern one begins to dominate by (00:52). This mesocyclone translated northeastward over the next 46 minutes before producing its first tornado near Pink, Oklahoma. The first radar volume containing the tornado begins at (01:36). The MDA encountered difficulties with this volume scan which are discussed below. At (01:42) the storm's hook echo is even more pronounced, and reflectivity at (01:51) shows the storm to be highly strung out in this strong shear environment.
2. NEAR RANGE DETECTION ISSUES:

Description: One interesting aspect of Storm D is its proximity to the radar. In near range storms, the radar tends to observe a variety of vortices which would, in a distant storm, would be smoothed out by the broader beam width. The existence of several vortices of all depths and orientations within a single storm presents a challenge to any algorithm attempting to identify and categorize them. The three links above attempt to offer some insight into these challenges.
3. THE SHAWNEE to MEEKER TORNADOES:

Description: The tornado near Pink lasted about 17 minutes. Then, around (01:56), this tornado occluded. The storm cycled rapidly, putting down its next tornado at (02:00) near Shawnee. By (02:16), the radar images were becoming very ominous as the tornado approached Meeker.
4. THE STROUD TORNADO:

Description: Following the tornado near Meeker, Storm D quickly evolved into an HP supercell. Other storms can be seen forming upstream of Storm D at (02:46). These contributed to the storm's HP nature by seeding it with precipitation.


**Move on and Examine Storms C,H,I,E
**Return to Overview Page