The Dover Tornado and Other Storms

INTRODUCTION
Storm E struck the town of Dover with a tornado that was later rated F4. This was occurring at the same time that the very large Storm B tornado was approaching Mulhall. With the May 3rd tornado outbreak already having been made historical by the Oklahoma City tornado, the storms after dark were almost equally intense. Storm E was followed quickly by another, Storm H, which covered the same ground, producing a few more tornadoes. Also included below are Storms C and I. They were shorter lived and less damaging, but tornadic, nonetheless.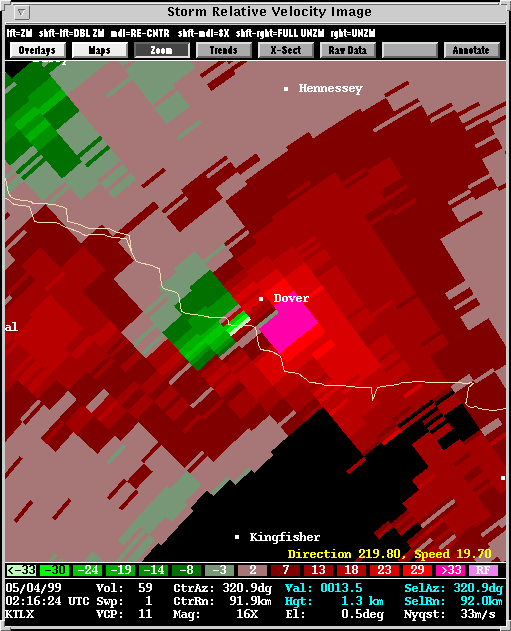 1. THE GEARY-DOVER STORM (STORM E):

2. THE OMEGA-HENNESSEY-MARSHAL STORM (STORM H):
Description: Storm E first exhibited rotation at (00:57), and became tornadic around (01:21). The storm was
initially at the southern end of a series of storms. The others did not produce any reported tornadoes. The tornadoes with Storm E were progressively stronger, however. An F3 tornado tracked through farmland west
of Kingfisher where two satellite tornado paths have also been found. By (02:01), the mesocyclone really began to look ominous as the F3 lifted, and the Dover tornado was about to touch down. At this same time, Storm H had become a new threat back to the west of Kingfisher.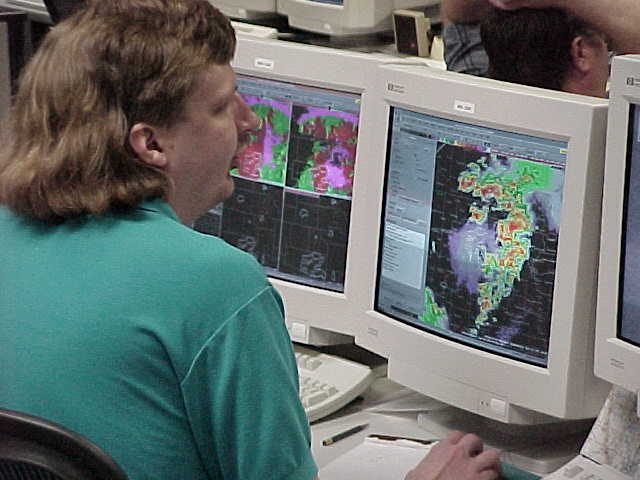 3. THE OKARCHE STORM (STORM C):
Description: Storm C was not particularly strong, but did produce two weak tornadoes very near Okarche.
4. THE FAIRVIEW TORNADO (STORM I):

Description: Storm I developed relatively late in the outbreak. It was the farthest west of the supercells
that were lined up across Central Oklahoma. Storm I intensified rapidly, producing an F1 tornado about 15 minutes after the first mesocyclone is visible in the radar data. However, the storm did not evolve into a long-lasting threat.