MPAR Software Upgrades Project
The National Weather Radar Testbed (NWRT) was established to demonstrate the potential to simultaneously perform aircraft tracking, wind profiling, and weather surveillance as a multi-function phased-array radar (MPAR). Since its inception in September of 2003, the system has undergone an extensive engineering evaluation and numerous hardware and software upgrades. These have supported several research experiments with the goal of demonstrating many of the unique advantages of using phased-array technology in the context of weather observations. A modern and improved multi-processor/multi-computer signal processing environment has allowed the implementation of new and advanced real-time signal processing techniques that continue to provide researchers and users with an optimum platform for demonstrating and evaluating the MPAR concept. Specific goals for this project are to improve the quality of meteorological data produced by the NWRT PAR, to demonstrate adaptive scanning capabilities for weather observations, and to demonstrate dynamic scheduling of multi-function scanning strategies.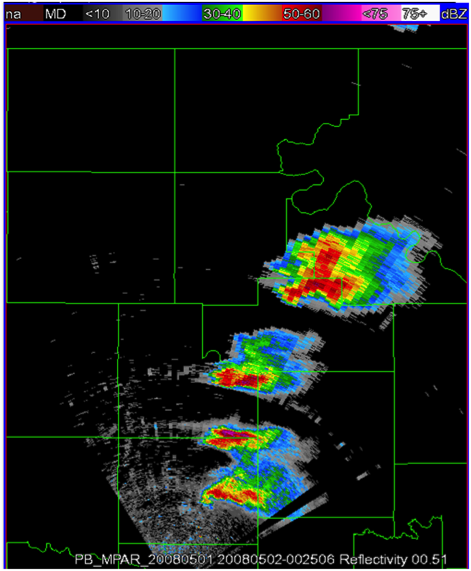 MPARSUP addresses upgrades in three major areas:
For additional information, browse the list of publications and timeline of upgrades.
Contact Information
Dr. Sebastian Torres
National Severe Storms Laboratory
National Weather Center
120 David L. Boren Blvd, Rm 4921
Norman, OK 73072
(405) 325-6633
(405) 325-1914