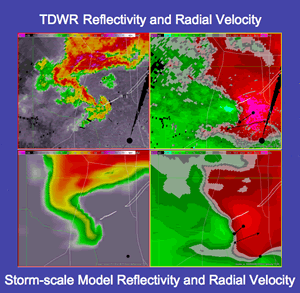 Comparison of observed radar features versus a storm-scale model on 8 May 2003.
Larger image
SWAP is an informal crosscut group of NSSL scientists from the radar, forecast, and warnings divisions, working to assimilate radar data into numerical forecast models on both the meso- and storm scales to investigate the environment in which storms form. Researchers will use the models to understand why some thunderstorm environments support tornadoes and others do not.
Additional collaborators from outside NSSL include scientists from the Center for the Analysis and Prediction of Storms, NCAR, the University of Oklahoma, and at the University of Illinois.
Current Focus
SWAP's primary focus is to develop the science and technology needed to assimilate Doppler velocity and reflectivity data into local and regional weather prediction models. The pursuit of this goal has generated several active major mesoscale and storm-scale projects, including analyzing and assimilating surface data from different types of storms (overnight convection, MCS, tornadic supercell), using the data in predictions, and developing a data assimilation based quality control of radar observations.
Planned Projects
SWAP projects included an Observing System Simulation Experiments (OSSE) study (late 2006) to determine the potential impact from increased data frequency and assess data collection strategies from the Phased Array Radar (PAR) system currently being researched at NSSL. A Real-time WRF-based Mesoscale ensemble was used during the NSSL/SPC spring program 2007. and a Phased Array real data study to inter-compare with 88D assimilation is in the works.