2011 Spring Tornado Outbreaks
2011 Spring Tornado Outbreaks
The tornadoes that occurred during the spring of 2011 were deadly, record-setting, and heart-breaking. Below we have listed the most significant outbreaks, along with links and information, and some of NSSL's research products that have been used in assessing the outbreaks.
April 16, 2011
Thirty tornadoes were confirmed across the Carolinas and Virginia on April 16, 2011 causing 26 fatalities and 371 injuries.
April 22, 2011
On April 22, 2011, two supercell thunderstorms crossed the St. Louis metropolitan area bringing large hail, strong winds, and five tornadoes, including one ranked EF4. The worst damage occurred when the tornado hit the Lambert St. Louis International Airport. Thankfully, there were no fatalities.
April 25–28, 2011
During a 4-day period from April 25-28, 2011, more than 200 tornadoes occurred in a five southeastern states. The deadliest part of the outbreak was on April 27, when a total of 122 tornadoes resulted in 319 deaths. The event was one of the deadliest since formal record keeping began in 1950.
May 22, 2011
Devastating tornadoes hit southeast Kansas and southwest Missouri on this Sunday afternoon. The city of Joplin, Mo., experienced an EF5 tornado that destroyed a significant amount of the city and left 158 people dead. The Joplin tornado is the deadliest single tornado since 1950. The deadliest tornado on record in the U.S. was on March 18, 1925. The "Tri-State Tornado" (MO, IL, IN) had a 291 mile path, was rated F5 based on a historical assessment, and caused 695 fatalities.
May 24, 2011
Deadly tornadoes tore through Oklahoma, Kansas, and Arkansas claiming 18 additional lives. Several of these tornadoes received ratings of EF-5.
More info...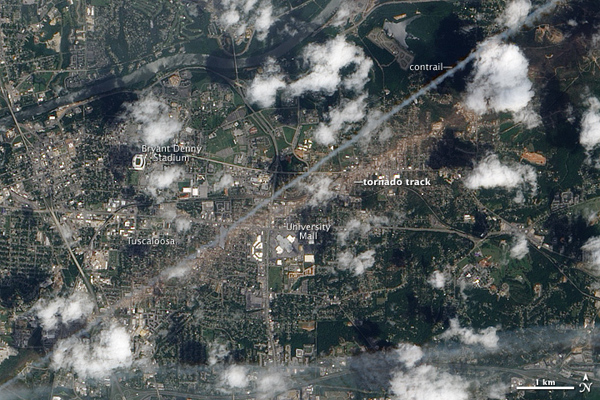 Tuscaloosa, AL, May 2, 2011 — On April 27, 2011, a devastating tornado tore through Tuscaloosa, Alabama. The storm packed winds of 190 mph and left a path of debris running southwest to northeast. On May 2, 2011, the Advanced Land Imager (ALI) on NASA's Earth Observing-1 (EO-1) captured this natural-color image of the tornado track through Tuscaloosa.
Photo: NASA Earth Observatory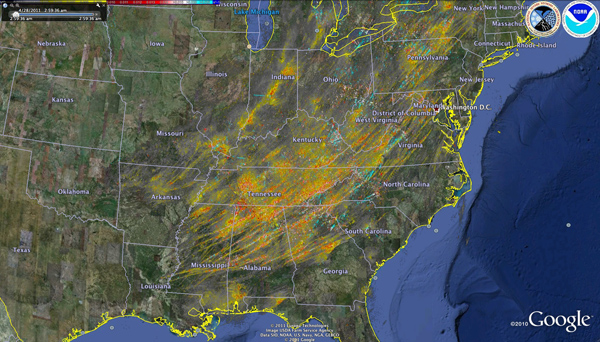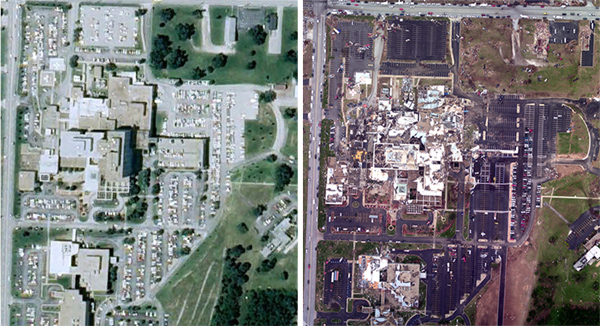 St. John's Hospital in Joplin, MO, before and after the EF5 tornado on May 22, 2011.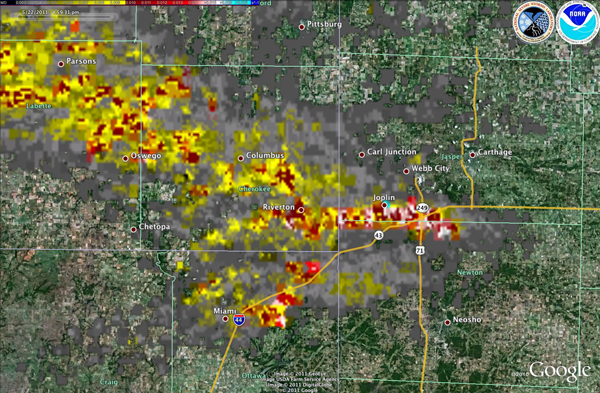 NSSL has released this image documenting the rotation tracks of the devastating tornadoes on May 22. Bright reds and yellows show more intense circulations.
The image was produced by the On-Demand Severe Weather Verification System, part of NSSL's
Warning Decision Support System – Integrated Information (WDSS-II) Multi-Radar/Multi Sensor platform
. On-Demand is a web-based tool that can be used to help confirm when and where severe weather occurred.
The platform is being used by several local American Red Cross chapters, emergency managers and National Weather Service Forecast Offices for disaster assessment and response.
The WDSS-II system receives data in real-time from the nationwide networks of weather radars, satellites, surface observations and lightning detectors. WDSS-II then processes, analyzes and displays the data in a way that is useful to people who need to diagnose severe weather quickly.
On-Demand uses data gathered and sorted by WDSS-II to estimate the tracks of rotating storms and where hail fell. The rotation tracks or hail swath data can be overlaid on high-resolution street maps in Google Earth/Maps to pinpoint areas affected by the hazardous weather.